Toilet

Level editor item

Object type

Special item category

Available in Happy Wheels since version

1.42
The
toilet
is a breakable 
miscellaneous item
which was added in July 8th, 2011. It was added with the
trash can
 and
homing mine
. The toilet has three toggles: sleeping, reverse (point in the opposite direction) and interactive/uninteractive (whether it can be touched by characters, items etc. or not). It can also be 
pin jointed
 to the background.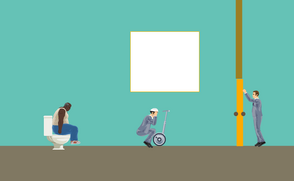 Trivia
When broken, water spews out of the toilet.
The toilet can only be broken into four pieces.
In the Level Editor, the toilet takes up 5 shapes.
The toilet cannot flush.
The toilet is commonly seen in levels with a NPC attached to it, making it look like he or she is using it.
Although the toilet is usually a fixture, it does not stay in a fixed position without a pin joint.