Rail

Level editor item

Object type

Special item category

Available in Happy Wheels since version

1.45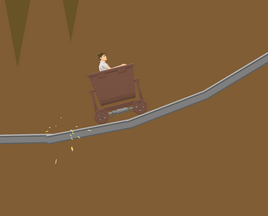 The
rail
is a
special item
, found under the
building blocks
 category, it has the design of a rail one might find in a mine shaft. It has a fixed height of 18, a maximum width of 2000, and a minimum width of 100. If the player holds space (by default) while
Explorer Guy
is rolling across a rail, his cart will attach to it, and you will be able to go faster, be able to go upside down, or lean. This object looks similar to the I-beam and has no other special properties, so it is likely to be used solely in levels including
Explorer Guy
, but there are some levels that use it just as they would a
shape
as the ground for any character.
This item was released in version 1.45 of Happy Wheels, along with Explorer Guy character. It is prominently featured in The Legacy of Quezal , a featured level.
Glitches
Trivia
The rail can be used as a "safe place" when using the Melt Glitch. It is also unaffected if another glitch turns all fixed items into black holes.
The rail will stop wrecking balls.
The rail takes up 2 shapes in the level editor.
It is unknown why the height toggle is shown in the "toggle box" when it can't be changed.
When attached to the rail, it can cause Explorer Guy's minecart to break when colliding with a heavy or fixed object at low speeds.
Video
Community content is available under
CC-BY-SA
unless otherwise noted.