Headache Puppy is an image of a puppy holding its head as if it has a headache. It was created even before the creation of the site. Adura added this photo to the site as the 500 Internal Server Error. Below the picture on the site, there is text saying, "Headache Puppy does not approve of repetitive refreshing.".
Reasons
The most common reason Headache Puppy shows up on the site is because of a 500 Internal Server Error happening while you load the page. An Internal Server Error 500 occurs when the web server running the website has had an unexpected error causing the site to fail. Lots of users speculate that it is caused by the site's large population. It frequently shows up when Happy Wheels is being updated. It might also appear if the player refreshes multiple times, although this may not be true. After the first site move, Headache Puppy is very rare to see.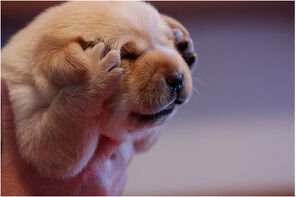 Trivia
Headache puppy used to appear over a white background, later he appeared over the background of the site.
Community content is available under
CC-BY-SA
unless otherwise noted.