This article is about an upcoming feature or contains information about one.
(Edit | Similar)
Added information should have verifiable sources, as otherwise it may be deleted. After the release of the feature, this article may require some heavy rewriting; Only remove this template once those changes have been made.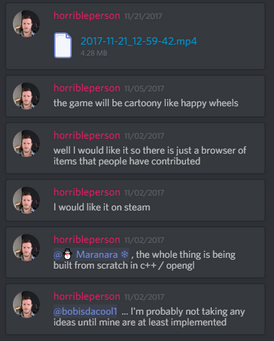 The Happy Wheels sequel, commonly referred to as Happy Wheels 2, is the sequel to Happy Wheels that is currently in production. Jim Bonacci has stated that, unlike the original game, the player will be required to download the game. He has also stated it will cost around $5 - $10 to create levels, although nothing has been confirmed. Rather than Flash, the game is being programmed in C++ and uses OpenGL for rendering. Like the original, it will be presented in a cartoon-like style.
Not much is known on the sequel, as Jim has stated he would rather release a final product as opposed to showing the various stages of development. However, various information on features in the sequel has been discussed by Jim on the Happy Wheels Discord server. No release date has been officially confirmed, but there is a possibility it may release some time in 2021/2022, and will be free to play and will work on both Windows and Mac operating systems. Also on the official website, Jim Bonacci also put up a vote on the Total Jerkface Home Page as to say how Happy Wheels 2 should look. Most of the voting people are saying that the Happy Wheels sequel should be a cartoon like in Happy Wheels: The Series.
Jim will keep people updated on the works via Happy Wheels Discord. Be sure to check pinned messages in the #sequel-discussion channel.
Original 2.5D Sequel
The original sequel to the game differs greatly from the current sequel. As shown on Jim's YouTube channel, it was to utilize normal mapping to fake a 3D perspective, and be presented in 2.5D (3D on a side-scrolling perspective).
Features
By utilizing the capabilities of C++ and OpenGL, the sequel displays better physics, dynamic lighting, as well as normal and specular mapping to textures. This also allows the game to be more stable than its Flash-based counterpart.
Jim also said that characters will have sequenced animations in his post, "I EXIST".
Gallery
Videos