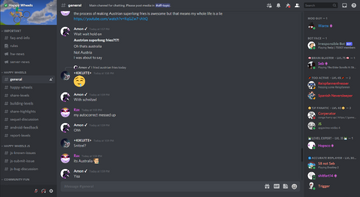 The Happy Wheels Discord server was created by Jim Bonacci on the 25th of September 2017. It currently has over 40,000 active members, 11 public channels, and 2 voice channels.
Main Channels
faq-and-info (Mods only) - Frequently Asked Questions, and answers to common problems on Happy Wheels.
how-to-play-hw (Mods only) - Provides a description of how to play Happy Wheels.
hw-news (Mods only) - News related to Happy Wheels will be posted here
server-news (Mods only) - Any special occasion, event, contests, or notices will be announced in this channel.
rules (Mods only) - This channel contains a list of rules for both Happy Wheels levels and the server itself.
general - Users can chat with other users as normal.
hw-discussion - Users can discuss anything related to Happy Wheels.
share-levels - Users can share levels, whether it be their own or someone else's.
building-levels - Users can either show off their progress with a level they are currently making or ask for advice and inspiration.
share-replays - Users can share any replays they've recorded or found from other players.
sequel-discussion - Users can discuss anything related to the sequel. Requires rank 3 or higher to post in this channel.
report-levels - Users can report rule-breaking levels, which are reported to website moderators. This is the replacement to the now-disabled Report level button. Each successful report earns up to 50 XP and in some cases up to 100 tokens.
starboard - Posts that has 4 or more star reactions will be added here by the bot (Mods only)
creations - Users here can post pictures of their creations whether it's related to Happy Wheels or not.
off-topic - Users can discuss topics that aren't relevant to the other channels.
server-suggestions - Users can post suggestions that can improve on the server, such as emotes or server design.
bot-announcements - Any information about the bot (Irresponsible Bot) it placed in this channel.
bot-chat - The main area for using tokens. Users can use bot commands (which is operated by Irresponsible Bot) such as gambling tokens, gaining access to roles and XP boosts in the shop, and finding their rank.
changelog - Provides a list of changes to the Irresponsible Bot.
music-bot - Users can set the music bot (Rythm, nicknamed Effective DJ) to play certain music in the Music voice channel.
Music - Voice channel used to play music. Only the Effective DJ bot can play music; all other users cannot speak.
General and General 2 - General voice channels.
Trivia
There was formerly a "español" channel for Spanish users but due to inactivity and the lack of Spanish moderators, it was removed.
Community content is available under
CC-BY-SA
unless otherwise noted.