For the items found in Effective Shopper's basket, see Effective Shopper.
For food found in the Trash Can, see Trash Can.
Food Item

Level editor item

Object type

Special item category

Available in Happy Wheels since version

1.49
The food items are one of the fourteen miscellaneous items in Happy Wheels. They were added in v1.49 on October 28, 2011, along with the cannon.
At the moment, there are only three foods to choose from: a watermelon, a pumpkin, and a pineapple. Users can determine whether they want it to be sleeping (can only move when touched by a moving object), interactive/ uninteractive, and, of course, choose what food they want to use. As usual, users can rotate the food whichever way they want.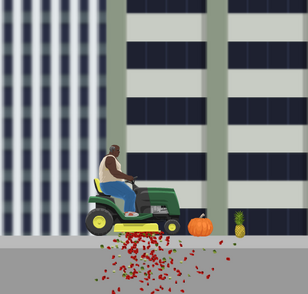 Characters are no longer the only things able to be sucked up into Lawnmower Man's vehicle; food items can now be sucked into the lawnmower as well. Food items can also be stabbed by the spikes, blade weapons, and autogyro propellers. The arrow gun and harpoon gun have fruity splatter textures on them if they shoot a food item.
Trivia
It seems highly likely that the pumpkin was added for the holiday of Halloween (on October 31st), however, all of the other food items were added on the same day.
Food items can not be stabbed by a glass shard.
Before the 1.52 update, if a blade weapon stabbed into a food item, it would have blood on it instead of the food item's actual color. Now, the color of the blade is that of the juice of the food item, watermelon will be red, pumpkin will be orange, and pineapple will be yellow.
This was Caroline Pham's first illustration in Happy Wheels.
The watermelon's juice is slightly darker than blood.
The food particles resemble blood type 1, but they do not change when the blood type setting is higher than 1.
Glitches
In the level editor, if you set food type to 0, and test the level, the game will completely crash. This has been fixed.
Gallery