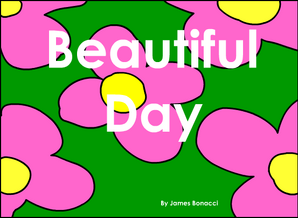 Beautiful Day
(commonly referred to as
Oh Beautiful Day
) is a 3:27 long flash movie made by
Jim
. It was released on Newgrounds and FreeWorldGroup on Thanksgiving 2002 and is his first piece of Flash. His only other Flash movie, titled
Where's My Bike?
, is also available on FreeWorldGroup.
Summary
A guy is walking along a path admiring the marvelous scenery, until he sees a rabid-looking bunny. It then runs off, with the guy running along to catch him. Unable to catch up with the bunny, he cries in shame. Then, a drooling unicorn comes to the rescue! The guy climbs on the unicorn, for it jumps off a cliff and uses his rocket to fly off (certain theories suggest that this is what gave Jim the idea to give Wheelchair Guy a rocket jet). He flies over towns until he reaches a beach, where he sees the bunny again. He runs away, leading the guy and his unicorn to a pot of gold! The guy gets a handful of gold, and cries again in happiness.
The End
Click here and watch the movie
Trivia
The bunny from Beautiful Day was also on the old Total Jerkface website, when you put your cursor over it or click on "Email", it barks. He is often called Matt, both by Total Jerkface users and Jim. Some users even call the pink monster "Matt".
Both of the animated videos did not have sound.
Jim refers to himself as James Bonacci unlike Jim. His full name is James Anthony Bonacci.
Jim did not upload a video of Beautiful Day on YouTube.
Jim only put shadowing on the man's face and the gold. In Where's My Bike?, there is no shadowing at all.
Slideshow